Located just below the equator, the island of Bali dazzles you with its beauty and its beaches, here is the 12 best things to do in Bali .
If many tourists go there to rest and enjoy their holidays without too much effort, the Indonesian island is far from being a landmark of resorts without activity. And then, who said there was nothing to do in Bali except rest? 
If you have planned to go to Bali for 1 or 2 weeks, know that you will not be bored! From cultural discovery of the island through villages, temples, history and culture, to nightlife, sports activities and relaxation with spas and yoga, there are indeed many things to do in Bali !
First of all, here are the essential sites to visit in Bali:
1. things to do in Bali– Temple (Pura Luhur)
Imagine a large cliff on which a temple is perched, and add to that a splendid view… The temple is located on the Bukit peninsula, in the far south of Bali, where there are also some beautiful beaches such as Balangan and many excellent surf spots .
The construction of this majestic Uluwatu temple began in the 11th century on the edge of a cliff, 70 meters above the Indian Ocean. Its visit provides beautiful views of the ocean, but you will have to be careful with your belongings because the temple is inhabited by many thieving monkeys.
---
2. things to do in Bali– Lot Temple (Pura Tanah Lot)
Here is another waterside rock formation that acts as the foundation of this very popular shrine. 
It is the most famous of Bali's temples for its serenity and cultural significance as it is associated with Balinese mythology as one of the seven temples that form a ring in southwest Bali. The ideal is to go there during low tide so that you can discover it on foot. 
Too bad it is a victim of its own success, the site being very busy, with the obligation to pass through an aisle of small vendors.
---
3.things to do in Bali– Ulun Danu Temple on Lake Bratan (Pura Ulun Danu Bratan)
Another temple yes, but it's the most beautiful that you can visit in Bali. It is the famous "temple by the lake", which unlike other temples perched on the edge of a cliff, rests serenely on the edge of Lake Bratan . 
It is for sure one of the most beautiful places on the island not to be missed under any circumstances! The reflection in the water of the temple (also known as Bedugul) and the mountainous surroundings provide a superb setting for a visit.
---
4. things to do in Bali–The rice fields
It's not just the beaches and temples that make Bali famous. You will also see a lot of rice fields, terraced or not, during your journey in the Balinese lands. Here are the most remarkable: Tegalalang, Antosari, Busungbiu, Karangasem, Jatiluwih and Pupuan.
---
5. things to do in Bali–Watch dolphins at Lovina Beach
Lovina Beach is quite simply one of the best places in the world for boat dolphin watching . Be warned, you won't be the only ones leaving at dawn on the boat (especially in high season) but the excursion is still worth the detour today, and you will realize it once the dolphins jump out of the water.
water in front of you! Lovina is however much less crowded than the south of Bali and there are many nice places to rest and take your time.
---
6.things to do in Bali– Ubud
The streets of Ubud are teeming with culture. The village is the cultural and spiritual center of Bali , far from the hustle and bustle of Dempasar and Kuta.
Like everyone else, you could come here for its Monkey Forest , but there is much better to do in Ubud. A great way to discover Ubud , the surrounding villages and the surrounding landscapes is to get on a bike and take a leisurely stroll.
You will find bicycle rental agencies on site. Meet the locals and if you're lucky you might join a ceremony or festival. Do not hesitate to stay in one of the guesthousesvery luxurious in the area, to enjoy a spa and a massage, with a room overlooking the rice terraces.
---
7.things to do in Bali– things to do in Bali– Batur Volcano
In a mountainous region of eastern Bali, is the caldera of Mount Batur in Kintamani. A trek to the top of the 1700 meters of this active volcano is a great experience for all travelers eager for new sensations. The perfect time to hike is at sunrise: leaving at 4am, you will arrive in time for the first light of day (at 6am). This hike is relatively easy and the trails are pretty well marked. From up there, you will have a panoramic view of the whole region, a magical moment.
---
8. things to do in Bali– Kuta Nightlife
Kuta Beach is the most popular beach to see in Bali, which means you'll easily find places to hang out at night. You will find an array of bars and clubs to suit all budgets and moods. If you're looking for classier (but more expensive) places, the nearby town of Seminyak has the best clubs in Bali.
---
9.things to do in Bali– Go for a coffee at Bali Pulina Agro Tourism
Here is a very quiet place to enjoy excellent locally produced coffee, with a view of the plantations as far as the eye can see. Here, you are served coffee or tea, the opportunity for you to taste the famous and very expensive Kopi Luwak , and to observe how it is produced and roasted.
---
10.things to do in Bali– Learn to surf on Kuta Beach
If there is a place to learn to surf in Bali, it is Kuta Beach. The sandy beach does not contain any coral and is therefore more pleasant if you are a beginner. You will be spoiled for choice for surf schools present near the beach.
---
11.things to do in Bali– Bali Arts Festival
If you stay in Bali between mid-June and mid-July, you will have a great chance of discovering the Balinese arts festival, an event known worldwide for its daily cultural performances, craft exhibitions and many other artistic activities.
12.things to do in Bali Attend a Kecak dance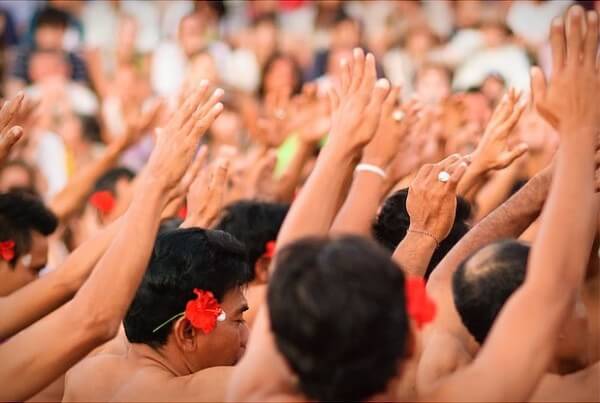 Kecak is a traditional dance or choreography from Bali that can be seen in particular at the Pura Dalem Taman Kaja temple in Ubud. It is a kind of ritual in which a chorus of a hundred men recounts the episode where the monkeys help prince Rāma defeat the demon Ravana to recover his wife Sītā kidnapped by Ravana. Impressive.
And other activities like these:
Go rafting on the Ayung River in Sayan
Eat seafood in Jimbaran Bay
Dive or snorkel to Lembongan Island or Menjangan Island
Grab a cocktail at the chic Ayana Bar on Rocks
Taste the typical Babi Guling dish
Watch a buffalo race in Negara