Qatar offers an eclectic mix of best things to do, from museums, architectural masterpieces and historical sites.
Add to that vast barren expanses, a coastline dotted with peaceful beaches stretching along the Arabian Gulf, and sand dunes as far as the eye can see, and you have the perfect recipe for an adventurous holiday.
From the spectacular skyscrapers and unique architecture of the capital city of Doha, to desert safaris, shopping sprees and exploring Arabian culture, here are some of the best things to do and see in Qatar.
So, what activities will you be tempted by?
1-Best things to do in Qatar : An exhilarating desert safari
Dunes as far as the eye can see and a spectacular inland sea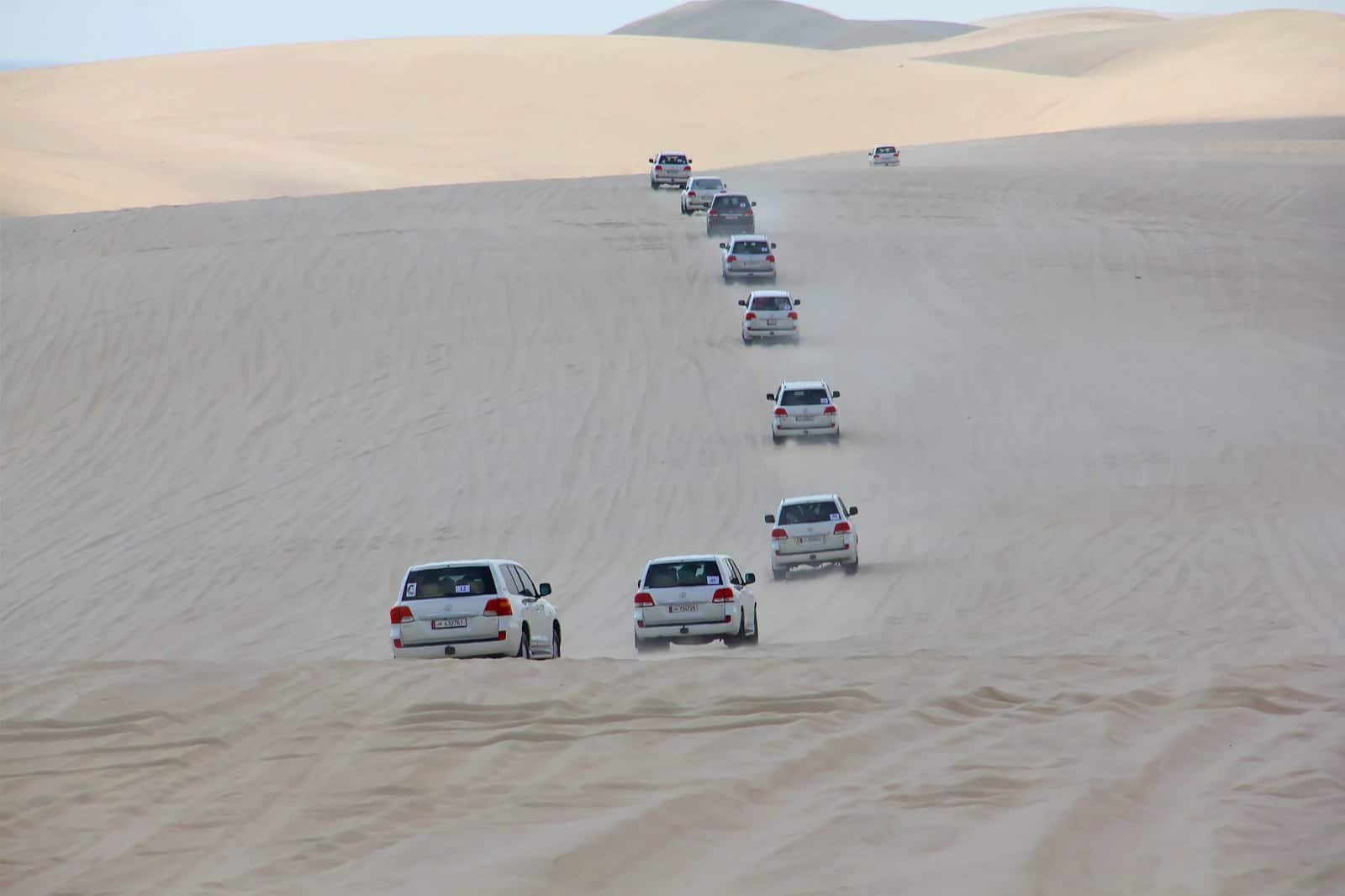 The modern city of Doha is surrounded by arid lands of striking beauty, ripe for adventure. The Mesaieed Desert to the south is dotted with towering sand hills, exciting to explore by mountain bike or 4×4 during Dune Bashing sessions.
Further south, towards the Khor Al Adaid Inland Sea, an otherworldly landscape awaits, where the ocean meets the desert. You can also organize a camel ride to discover the joys of this traditional mode of transport. Note, however, that for any walk in the arid expanse, it is best to book an excursion in order to be accompanied by experienced guides.
2-Best things to do in Qatar : Al Zubarah Archaeological Site
A concrete example of Qatar's not-so-distant past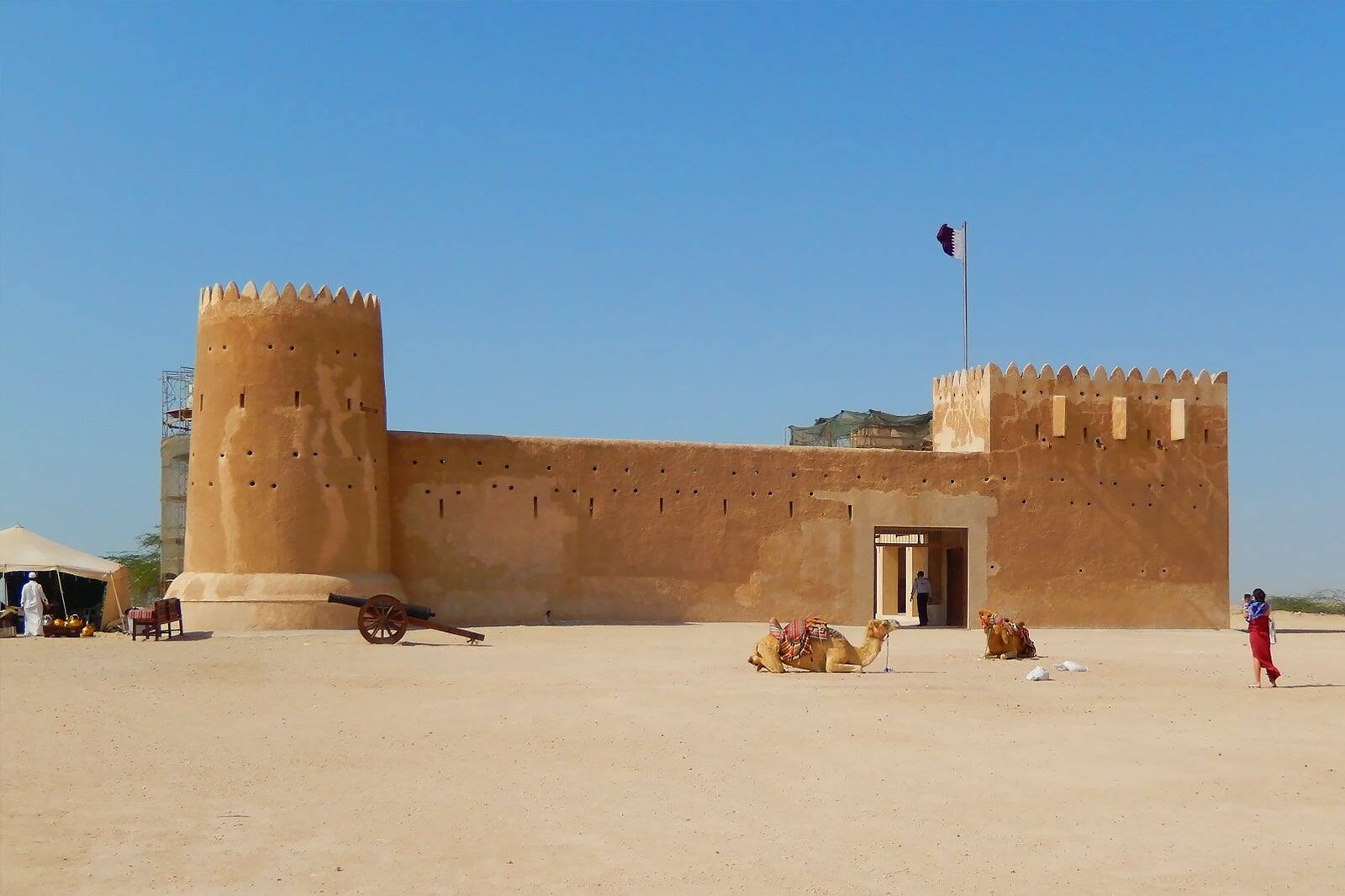 The archaeological site of Al Zubarah is an essential stopover for any stay in Qatar for those wishing to immerse themselves in the country's history. The fort which forms the main part of the site was built in 1938, but the coastal town of Ash Shamal dates back to the middle of the 18th century. The set reveals the rich history of Qatar at the beginning of the pearl trade.
Listed as a UNESCO World Heritage Site, it is located more than 100 kilometers north of Doha. It may take you an hour by car to get there, but the scenic drive through the desert will immerse you in a fascinating world frozen in time. And to conclude your historical journey, you can stroll through the abandoned village of Al Jumail, right next to the archaeological site of Al Zubarah.

3-Best things to do in Qatar : Banana Island
The joys of sun, sea and sand on the island of a luxury hotel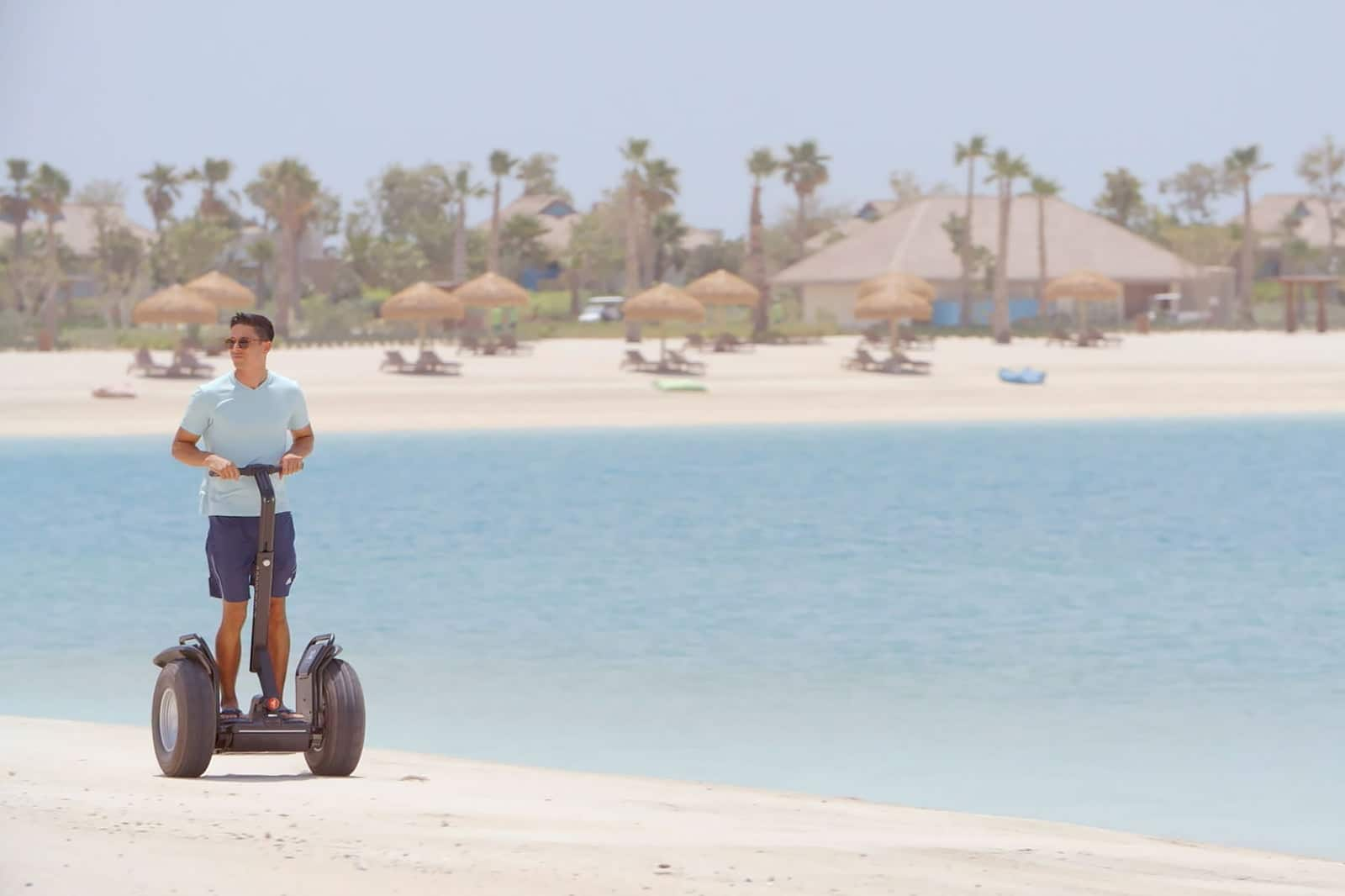 Recommended for:
Located just 20 minutes from the center of Doha, Banana Island offers a striking contrast to the bustling city center. After a peaceful journey on a luxurious ferry crossing the turquoise waters, all you have to do is kick off your shoes and explore a paradise world on a private beach. The island is owned by the Anantara hotel chain, but day passes are available for purchase.
From delicious Arabic cuisine to attentive staff, this peaceful place stands behind its world-class service. You will have the choice among many activities on or under the water, such as boarding a pedal boat, criss-crossing the waters on a jet-ski or, simply, watching the children having fun on the water slides.
Location: Banana Island Resort Doha by Anantara, 23919, Doha, Qatar
4-Best things to do in Qatar : World-class sporting events
Come cheer on the greatest athletes in the world.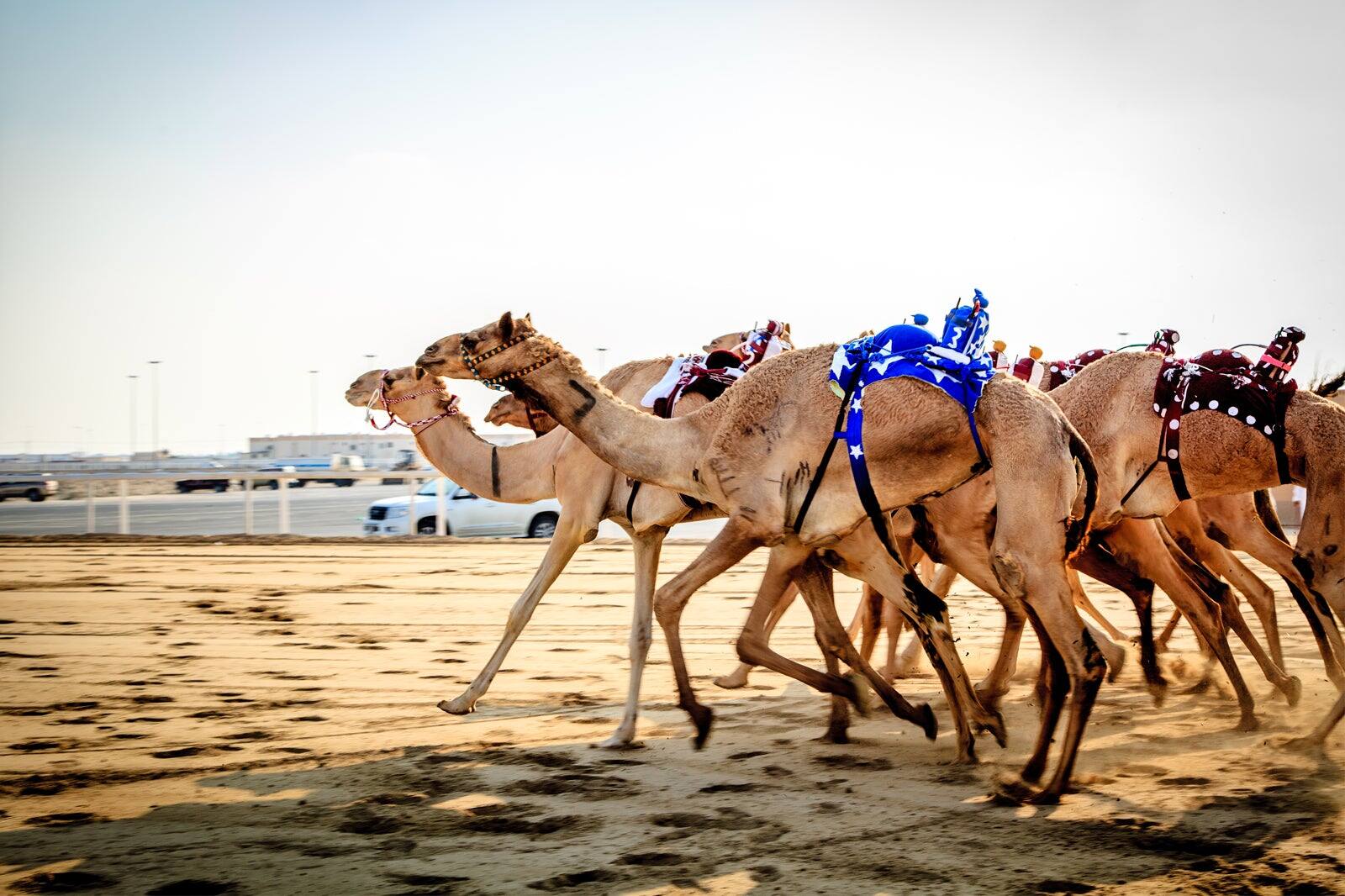 Recommended for:
From football and cricket to horse racing, handball and even camel racing, Qatar offers a host of major sporting events throughout the year. The 2006 Asian Games were a trigger for the country, which now organizes ever bigger and more extravagant competitions every year.
Whether you want to catch a football match at the Khalifa International Stadium or cheer on the nautical endeavors of athletes at the Corniche in Doha, Qatar is home to several world-class stadiums and spectacular seaside venues that make excellent sporting arenas. Some of the most important competitions include the 2019 World Beach Games and, of course, the 2022 FIFA World Cup.5
5-Best things to do in Qatar : Sheikh Faisal Bin Qassim Al Thani Museum
An eclectic insight into Qatar's history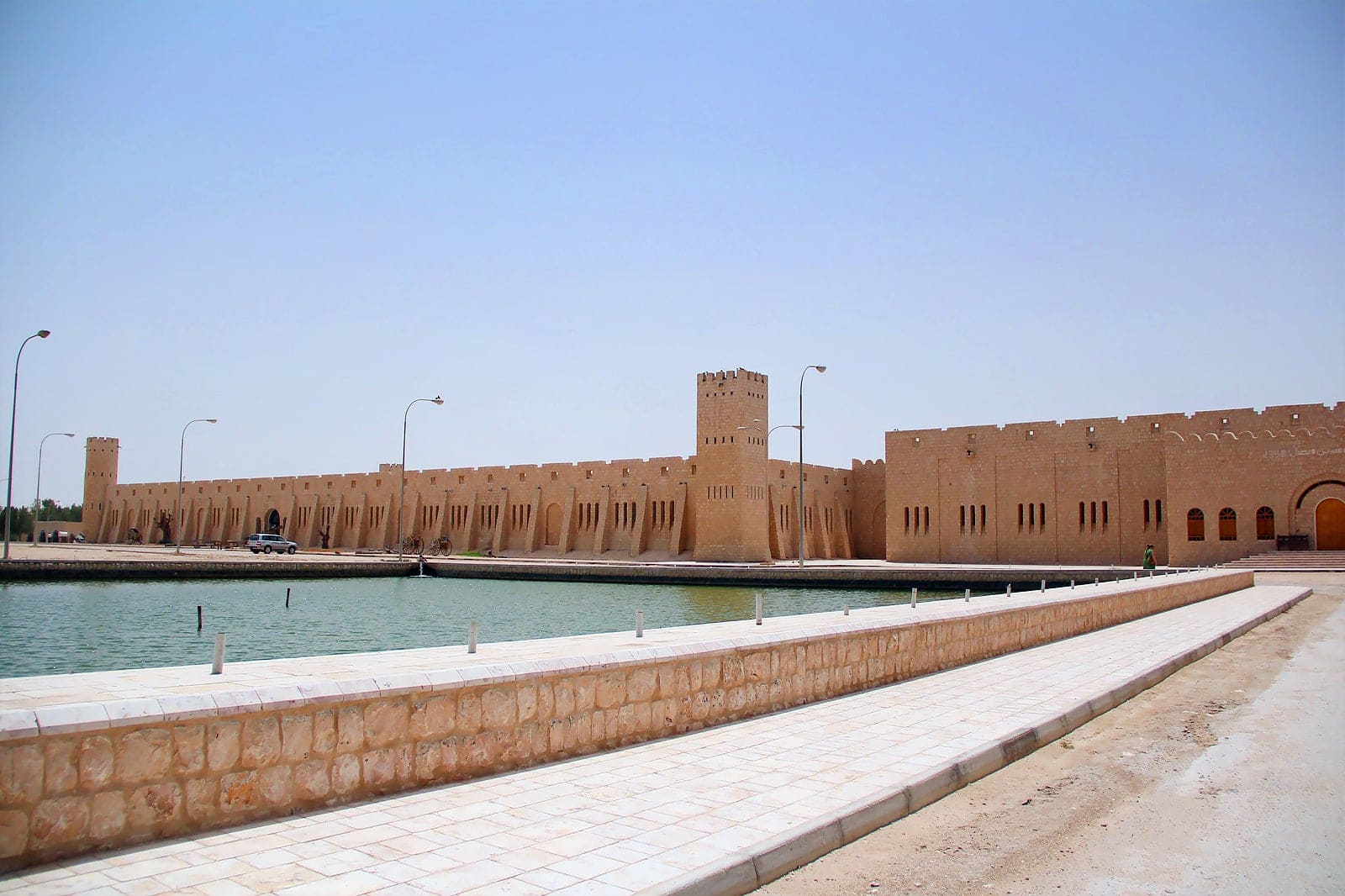 The Sheikh Faisal Bin Qassim Al Thani Museum is one of the most unique museums in the entire Middle East. Here you can admire an extensive collection of artifacts from different eras of history, including more than 600 vintage cars and exotic hand-woven carpets from all over the world.
Note that adult entry costs around 45 riyals and a visit to this captivating place usually lasts just over two hours. The museum also displays the personal collection of Sheikh Faisal, as well as private collections of calligraphy, steam automobiles, carpets and traditional costumes.
Location: Al Samariyah, Qatar
Hours of Operation: Monday through Thursday 9:00 a.m. to 4:30 p.m.; Friday from 2 p.m. to 7 p.m.; Saturday from 10 a.m. to 6 p.m.; Sunday from 9:00 a.m. to 4:00 p.m.
Telephone: +974 4486 1444
6-Best things to do in Qatar : Al Thakhira Mangroves
Kayak ride through lush coastal vegetation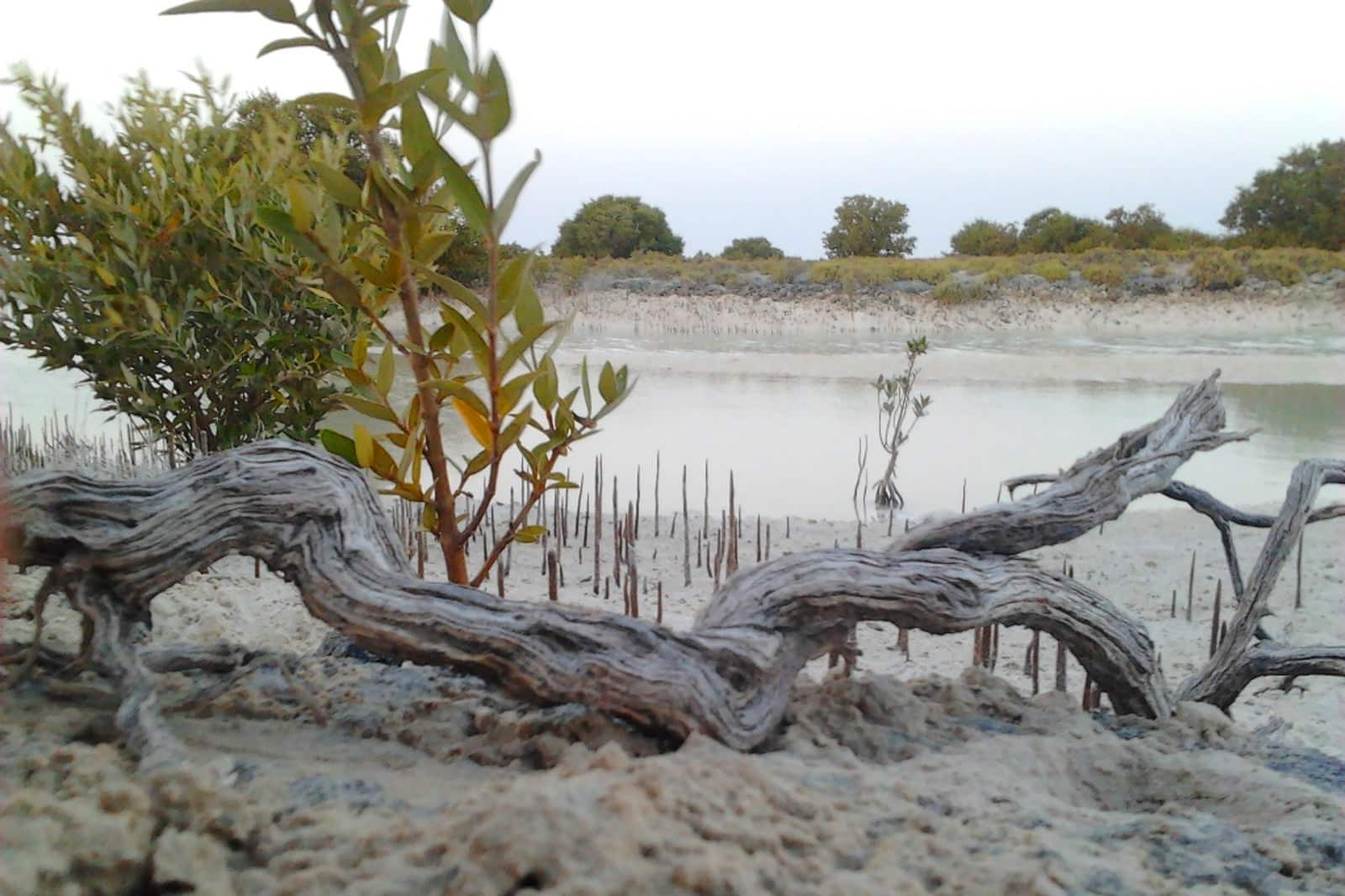 Recommended for:
Families
Adventure
Photography
When the heat of the city gets a bit too heavy, it's good to head to the Al Thakhira mangroves, located in the majestic Mangrove Bay. And the best way to explore this Arabian jungle is to board a kayak.
As you paddle along the northeast coast of the country, you'll have the opportunity to spot all the local wildlife, from reef egrets to terns and herons. With a bit of luck, you might even spot a few fish jumping out of the water. It is true that Al Thakhira is also a popular fishing spot, but it is better to go there in the morning or late afternoon to avoid the heat.
Location: Mangrove Bay, Al Thakhira, Qatar
7-Best things to do in Qatar : Fuwairit Beach
After the effort, the comfort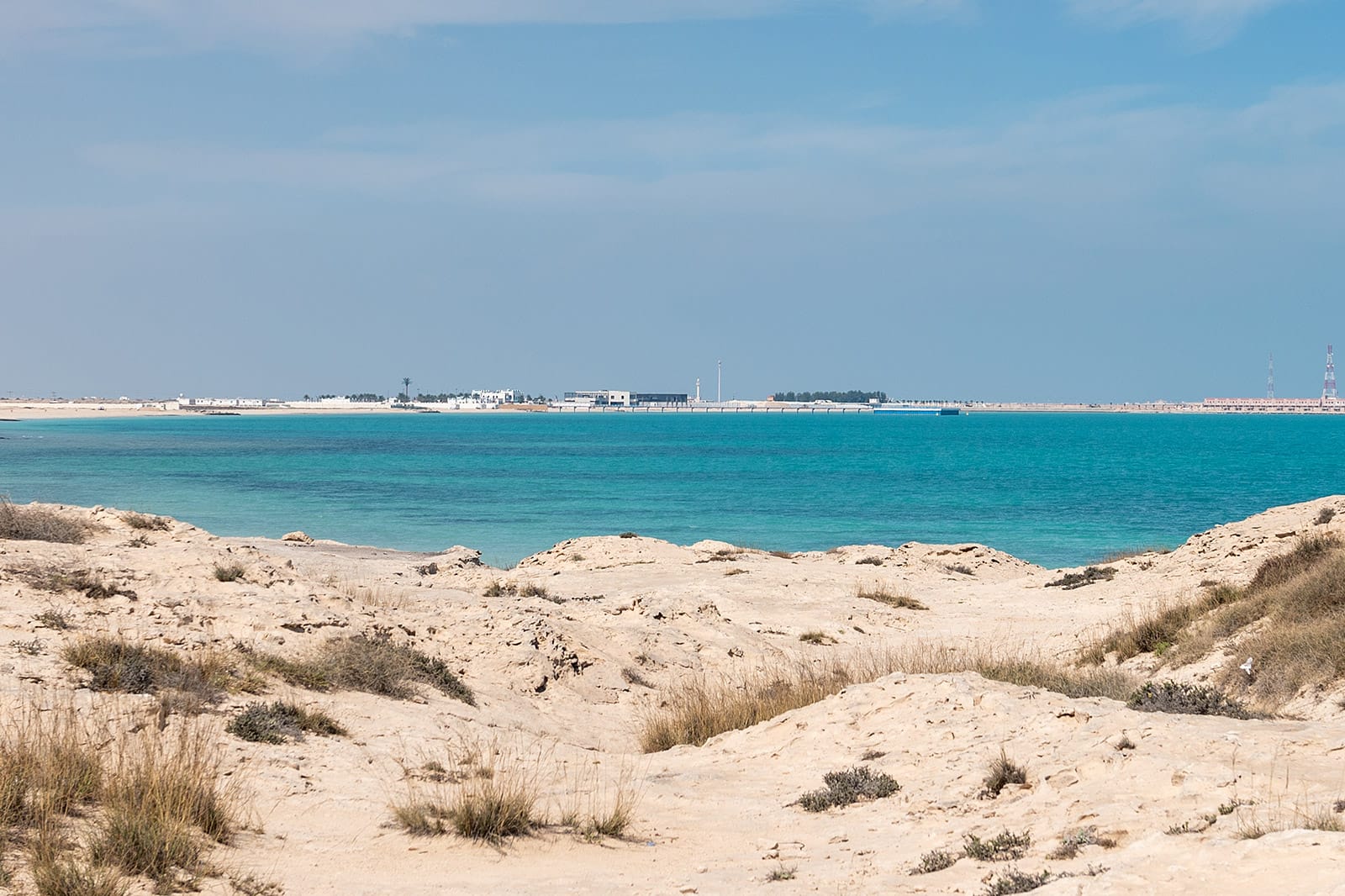 Recommended for:
Adventure
Photography
Economic
Fuwairit Beach, one of the most beautiful in Qatar, is located nearly 100 kilometers north of Doha. As there is no direct access to this popular spot, you will need to be prepared for a little off-road driving experience. Once you've set up camp, be sure to head to Coral Hill for some snaps to make your Instagram contacts blush. The icing on the cake, the water being shallow and the waves gently lapping the shore, Fuwairit beach is perfectly suited to even novice bathers.
You may have to work your way through the rockier parts of the beach, but there are plenty of areas perfect for lounging and sunbathing. Be aware, however, that the beach is closed at certain times of the year (usually November), as it is a nesting ground for hawksbill turtles.
Location: Al Ghariyah, Qatar
8-Best things to do in Qatar : Al Wakrah Souk
An evening soaking up the traditional scenes of Qatari markets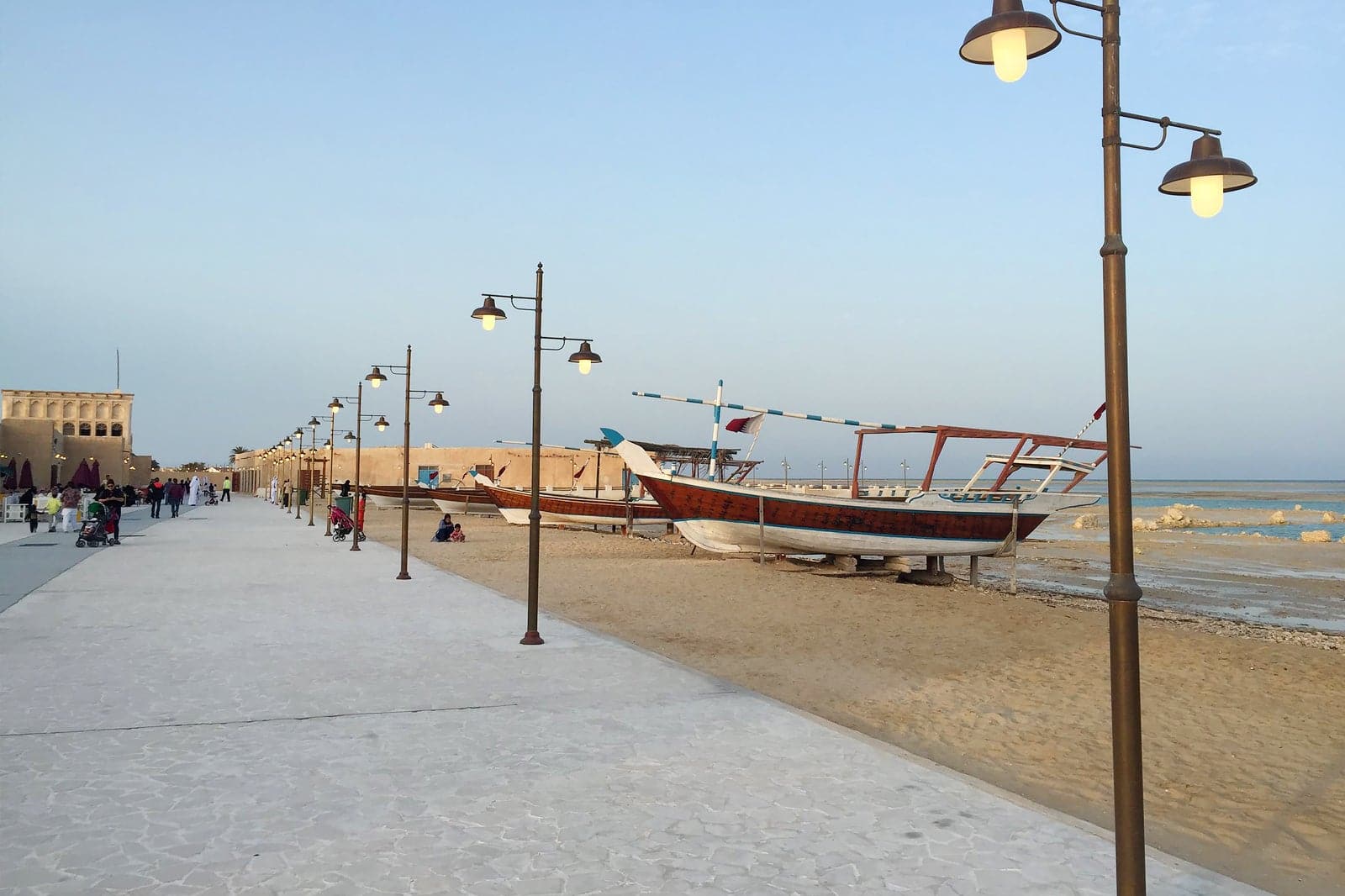 Recommended for:
Shopping
Photography
Gastronomy
Night life
Story
Are you ready to weave your way through the cobbled lanes and glittering courtyards of Al Wakrah's spellbinding souk? Along with traditional Arabic architecture, a striking mosque, and stalls selling spices and souvenirs, there is a host of excellent, quaint restaurants. Baba Chapatea, in particular, is recommended for getting a traditional paratha for a tasty dinner on the go.
It is easy to get lost in the magical atmosphere of the Al Wakrah souk. So if you want to find a place for peaceful reflection, head to the nearby beach to relax for a while and think about your souvenir shopping. This will also allow you to enjoy the spectacle of traditional dhows pulled up on the shore.
Location: Al Wakrah, Qatar
9-Best things to do in Qatar : Khor Al Adaid
The ideal place to indulge in dune bashing and observe wildlife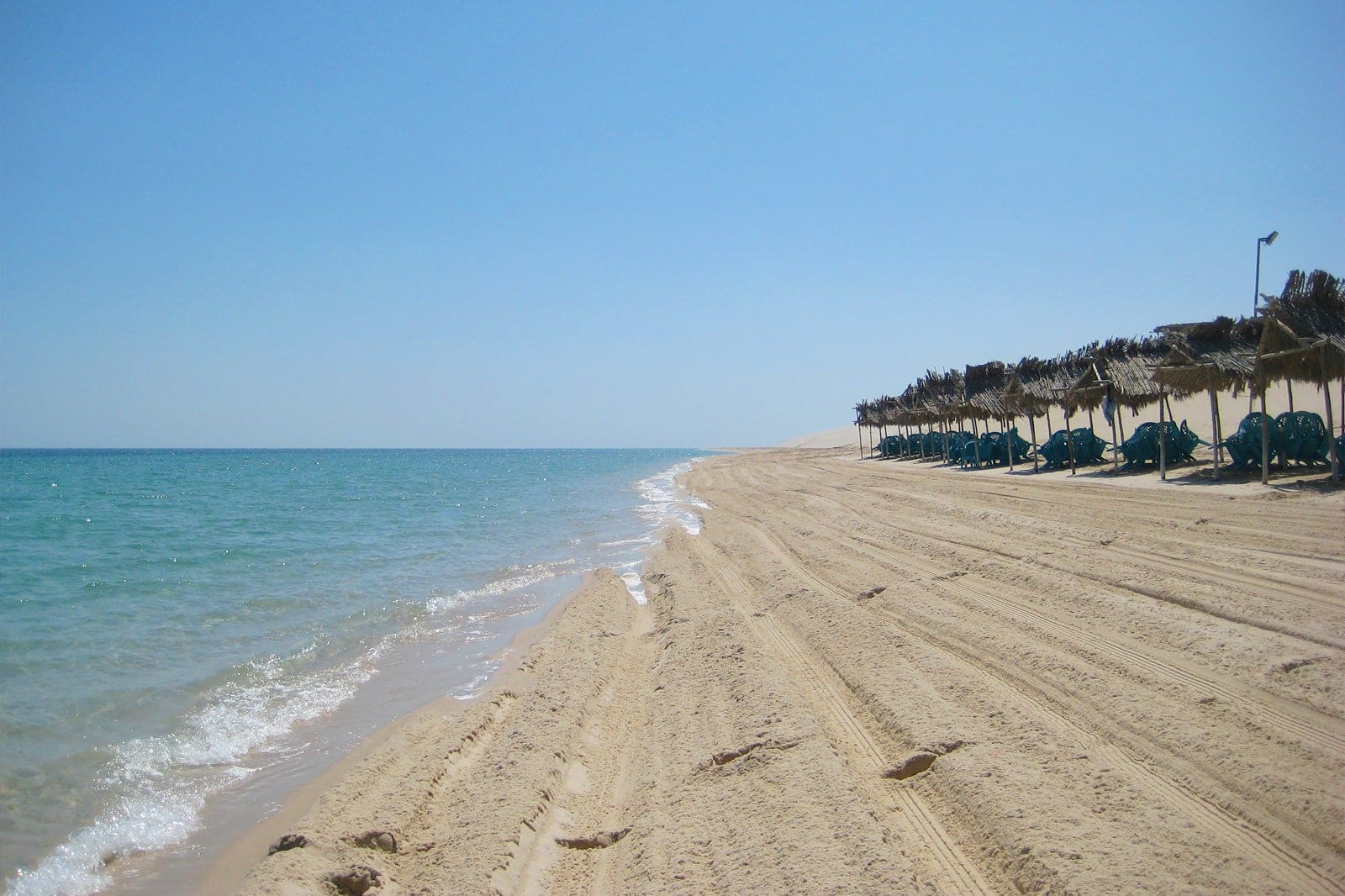 Recommended for:
Adventure seekers will love going on a day trip to the splendor of Khor al Adaid (Khawr al Udayd). The spectacular landscape of the Qatari desert indeed offers a multitude of activities, from traditional camel rides along the beach to unforgettable paddle sessions in the Arabian Gulf.
Also known as the 'Inland Sea', this scenic landscape provides the perfect backdrop for snapping fantastic photos. And before leaving, do not miss to walk the golden sand dunes at the edge of the beach to contemplate the splendid view of the sea. Khor al Adaid is also a nature reserve recognized by UNESCO, so keep an eye out if you don't want to miss any of the local flora and fauna.
Location: Khawr al Udayd, Qatar
10-Best things to do in Qatar : Al Jassasiya rock carvings
Works over a thousand years old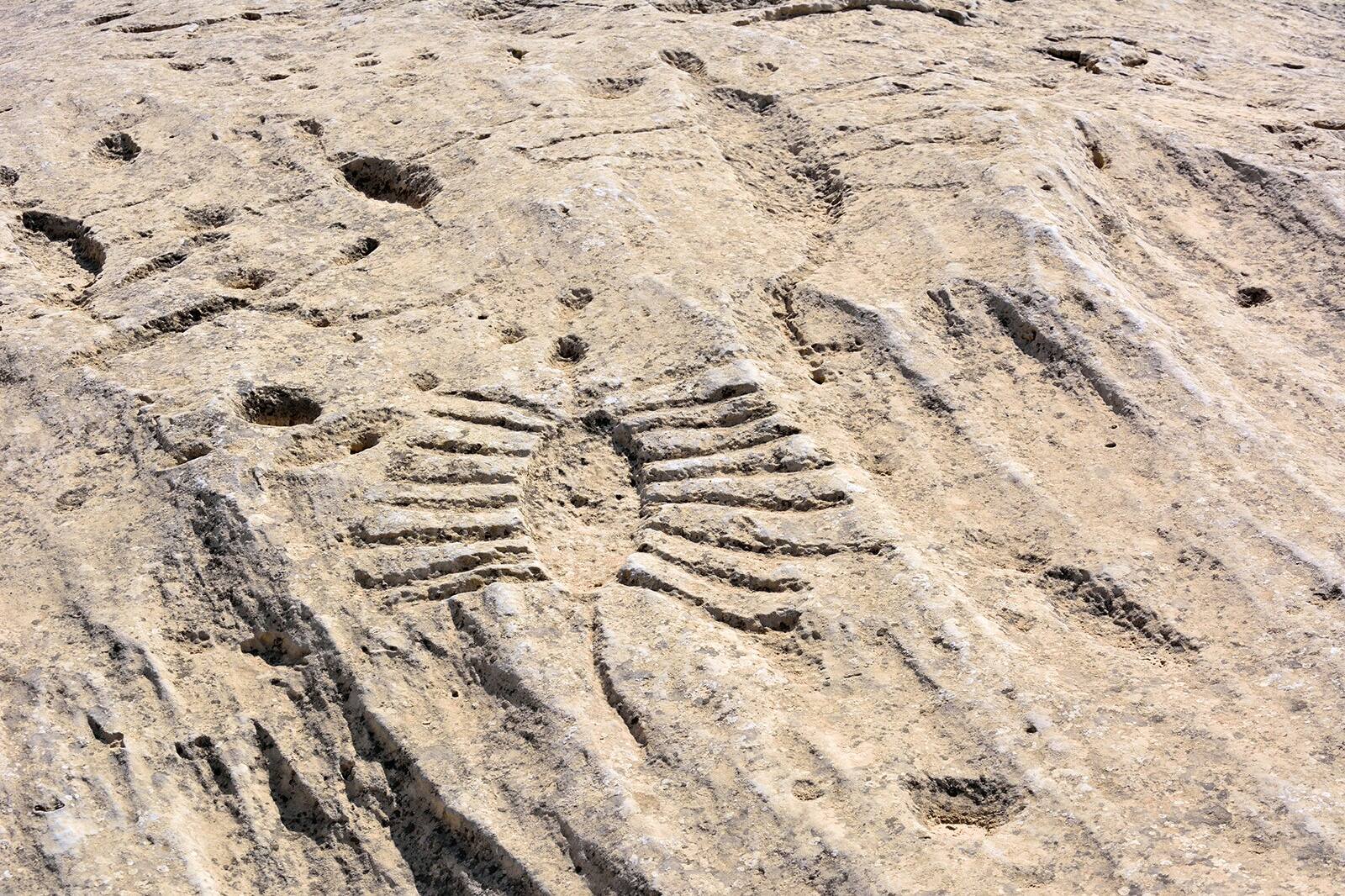 Recommended for:
Northern Qatar is home to absolutely unique petroglyphs depicting fish, footprints and ships. Once a limestone quarry, the site of Al Jassasiya and its rock carvings are as important a part of Qatar's heritage as the country's many museums, mosques and souks.
Located 60 kilometers north of Doha, in the middle of the desert, this memorable site has remained largely intact. But if you organize your trip with a local guide, it won't take long to reach the approximately 900 engravings depicting the country's traditional ways of life.