Where to take beautiful photos for best spots in France ? A question you probably woke up with. Like an irrepressible desire to replenish your captivating photo portfolio. 
Traveler, resident of France, professional photographer or not, you have come to the right address!
And I'm going to show you not one, but 15 spots in France where your photos will look like they've come straight out of a fairy tale. If you like photo books like me , you are going to enjoy these landscapes. Yes, re-experiencing this myriad of sensations on each new page of your album, from the comfort of your sofa, can only be pure ecstasy. Far from only wanting to make you want to make your own, you have to admit that having an album so rich in beauty would certainly be better than having all the gold in the world. In the meantime, focus on our adventure! Here we go !
Spots in france 1: The magnificent Allos lake
We start our tour on a spot as beautiful as it is calm and peaceful. A place par excellence for photo shoots in the most perfect tranquility .
But the lake itself, are we talking about it?
A magnificent expanse of water, of a heavenly blue . Where to find it? This oasis is located in the heart of the Alpes-de-Haute-Provence, in the Mercantour park . Can you see Mount Pelat in the distance? Well, here you are at Allos Lake .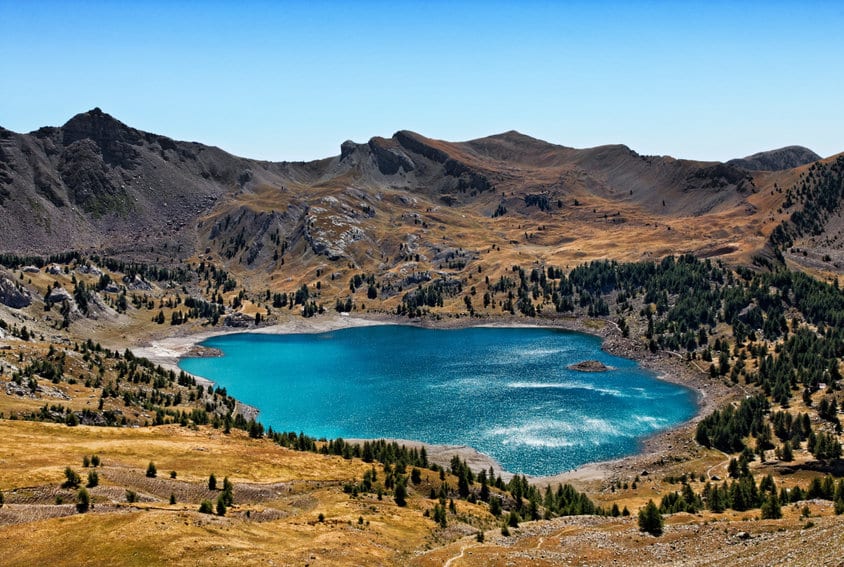 Image of Lac D'Allos on a windy day with the sun reflecting off the rippled surface of the water.
This setting meticulously constructed by nature, between the perfectly drawn reliefs of the mountains and the carefully erected fir trees, is the spot you dreamed of for unique high-rise photos . In height indeed, because the lake of Allos is hoisted to approximately 2230 meters of altitude  ! You imagine ?
Every angle of this frame seems to have been prepared for photo shoots. The most interesting thing is undoubtedly the calm that reigns there. All this under slow, gentle gusts of wind .
Even the sun seems to be part of the set-up: the lighting leaves me speechless . And the shadows, they bring to the scene a contrast that no camera could have produced so easily.
It looked like an animated work of art, in augmented reality .
Spots in france 2 :Giverny the corner of paradise of the Impressionists in spot 2
The first expression that comes to mind when arriving in Giverny is: " It's wonderful  ! ". Beautiful flowers of various bright colors , greenery as far as the eye can see in different shades of green and a stretch of water bathed in darkness, created by the shadow of this magnificent greenery : this is the most faithful description that fits. with the decor of Giverny .
But that's not all ! Close your eyes, and listen! Lend silence to the whispers of nature that hide in this icy silence. I imagine you can hear the lake, the flowers, the flowers, the whole decor repeat tenderly and calmly: "  immortalize us, immortalize us  ".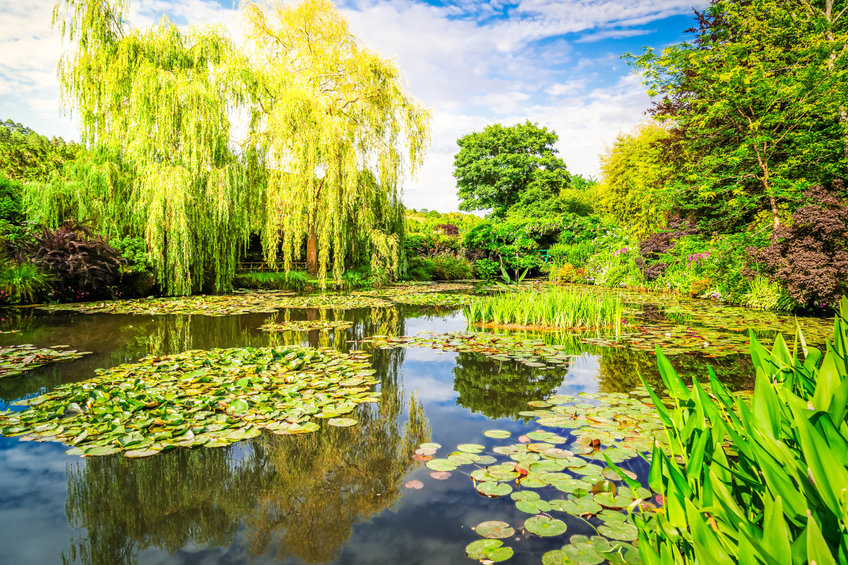 Pond with water lilies in Giverny, summer day, retro tone
No more doubt to be made: Giverny wants you to sing its beauty all over the world through your photos!
We now understand why the Impressionists took this setting for their paradise .
Just like Monet's paintings, Giverny will inspire you in your quest for the perfect angles. The cloudy sky on its side will bring its touch of mystery to your catches.
It's hard to imagine that this decor could disappear one day. He certainly asks for digital immortalization , but wouldn't it be rather a way of attracting more admirers of his beauty? Anyway, Giverny deserves admiration, praise and above all, that you photograph it.
Spots in france 3: Port Grimaud right in the Gulf of Saint-Tropez
For this spot, it is the beautiful Venice that welcomes us. Let's be more precise: it is rather a replica of Venice right in France that we are going to discover. And for that, we are heading for the golf course of Saint-Tropez: at Port Grimaud .
Do you see how stunning the resemblance is? Think again if you imagine that it is only a coincidence that this decor is similar to Venice .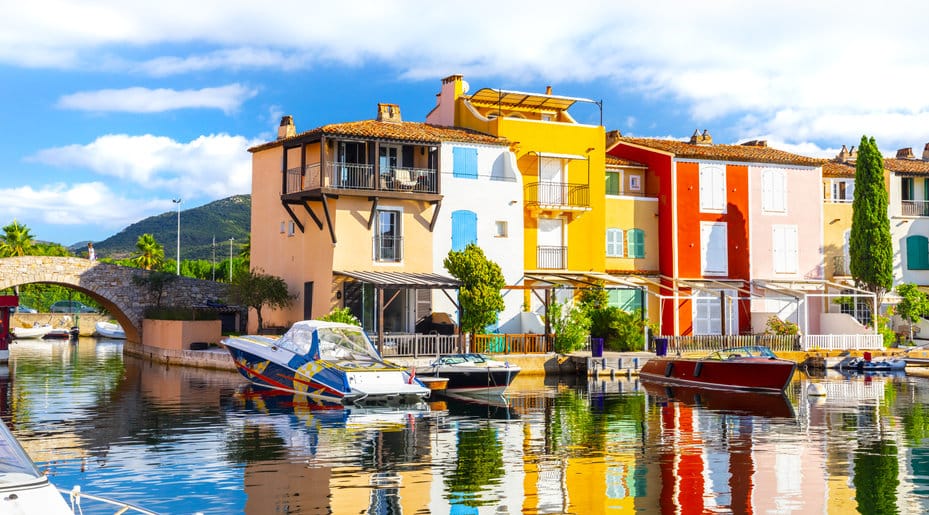 View of colorful houses and boats in Port Grimaud during summer-Port Grimaud
In reality, an architect with a wilder imagination than his talent quite simply undertook to reproduce an architecture of the Venice of Provence . And this masterpiece, we owe it to: François Spoerry . Yes, a little history lesson will only help you better immerse yourself in the atmosphere of the port.
Admire this beautiful cascade of color between the houses of this magnificent village! And those boats that we find all along the lake. We can clearly see the genius of the architect here .
Position yourself where you want it to bring out the background you want. Remember to rent a boat for your photo shoots. They will only be more epic, pure beauty trapped in a camera .
An experience that will stay with you forever!
Spots in france 4: Heading for Beauport Abbey
Who has never imagined taking beautiful photographs in an old building in ruins? For this spot, I take you to discover the ruins of the abbey of Beauport , an old monastery located in Brittany in the Côtes-d'Armor .
A gothic setting as desired, on the edge of the sea , and letting no noise through, not even the rumbling of the sea . However, if you strain your ears, you may be able to perceive the very light and discreet creaks of the construction .
Being a ruin, you can see on both sides of the abbey , flowers, wild greenery. The touch of nature that will make your catches perfect.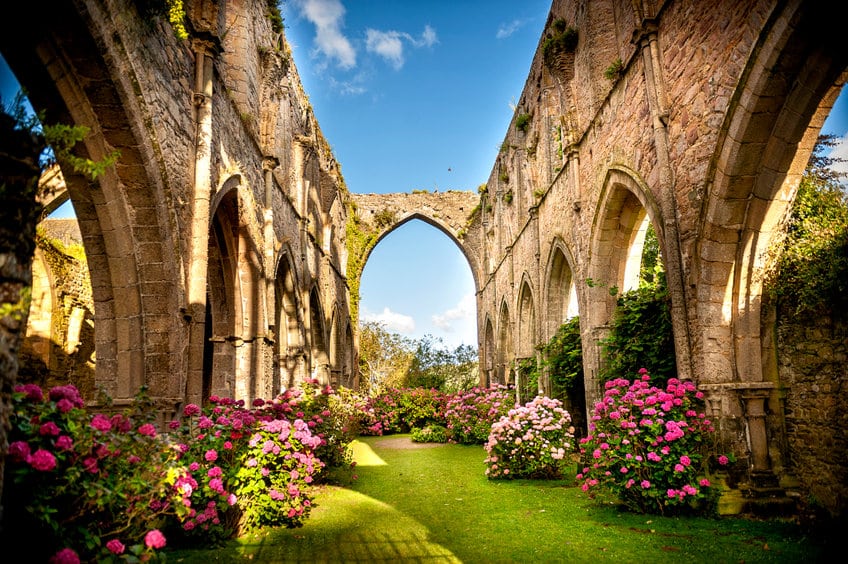 Former Maritime Abbey of Beauport, in Paimpol, Cotes-d'Armor, Brittany, France
For your photos, how about having both the ruins and the sea in the background?
A rendering that you will not be able to have anywhere else, for sure. Better, the more you sink into the ruins, the more you will discover precious landscapes that deserve to be immortalized before their complete erosion .
Another important detail, be careful to go there in the middle of the day. Why will you ask me. Well, to benefit from the light of day  ! The sun gives a magnificent golden appearance to the walls of the construction. A spectacle that you will certainly not observe once night falls.
But, the full moon evenings must also bring their touch of exoticism to this scene  ! You still have to see it to judge for yourself.
Spots in france 5 : Welcome to Occitania: the Cirque de Navacelles
Head to the south of France , to admire a work of art that takes my breath away every time I find myself there.
Welcome to the Cirque de Navacelles , where causses, lakes, hamlets and rays of sunshine work in unison to offer us a stunning spectacle.
Hard to describe! And that's what makes it beautiful. We begin by admiring the meander of which it is made, the very heart of this masterpiece.
A dignified pile of earth , evoking a pyramid built by the hands of nature, all supplanted by trees and shrubs, as if to give life to this spectacle.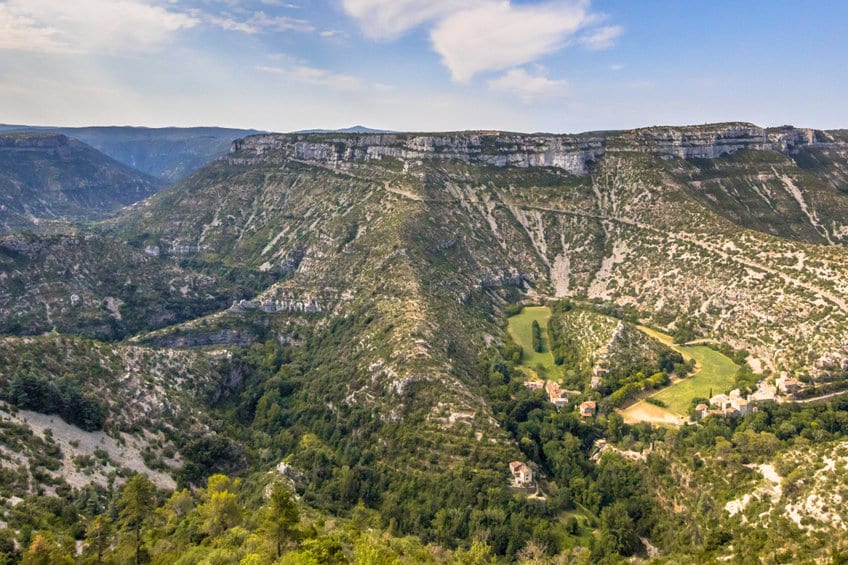 Grand Site of the Cirque de Navacelles in the Gorges de la Vis in the Cevennes, South of France
We now come to the most suspicious part of the scene: the Vis river which intersects the meander. Fully infused with the colors of the scene and beautifully lit by the sun. The latter also reveals with meticulousness the shadows delimiting the edges of the meander . All this to reveal another wonder to you: the causses of Larzac and Blandas .
For your photos, positioning yourself near the circus is the best choice you can make. You will capture every aspect of the setting and there is only one thing that can come out of it: splendor .
Spots in france 6: the most beautiful gorges in Europe – the Gorges du Verdon
When I found myself there, I had only one idea in mind: "  Oh, how enjoyable it would be to be able to live right on this expanse of splendor to admire its beauty each time I woke up  ! ".
The Gorges du Verdon have conquered my heart and I dare to hope that it will be the case for you as well. At spot 6, I offer you exotic and unique shots between the Alpes-de-Haute-Provence and the Var .
This wonder was born and shaped by the care of Mother Nature . Indeed, these gorges were created by the river itself. River which now seems to be taking a "  break  " after long periods of hard work to offer us the dream photographic scene .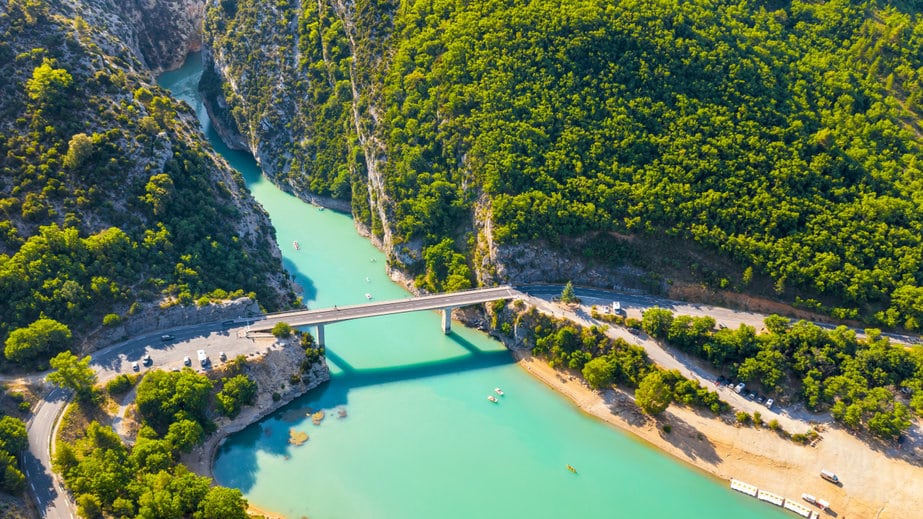 Gorges du Verdon, Provence, France. View of the Verdon River from the top of the Gorges du Verdon
What pure blue! Frankly, it looks like the sky is resting there!
Well rest or not, you will have to go down this river if you really want to take good pictures. Only then will you be able to capture the admirable caves adorned with bushes all along the river.
It would be even more interesting to film yourself crossing the river in a canoe and then take the best shots. Your photos will bring out more realism , which is perfect for this spot.
Spots in france 7: nature makes your photos a personal affair at the meander of Queuille
It must be said, the meanders have this enchanting effect that undoubtedly attracts us. Especially when they are intersected by rivers.
And we are going to meet some more for this adventure: I am of course talking about the Queuille meander .
To find out, you will have to go to the department of Puy-de-Dôme , in a place nicknamed "  the paradise of Queuille  ". First observation: a magnificent green space as far as the eye can see, adorned with a sumptuous river .
The astonishment is at its peak! It is to wonder if behind this nature, does not hide a kind of intelligence, master of these splendid sculptures .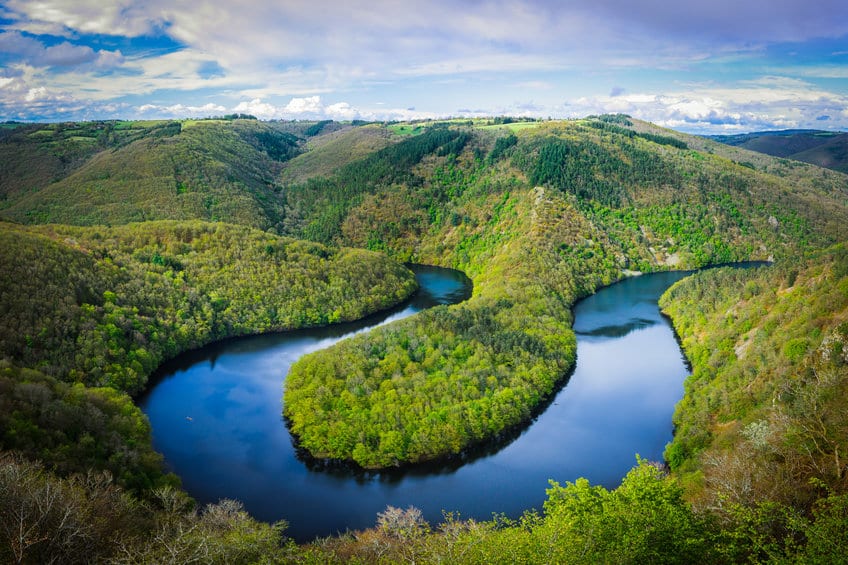 Panoramic view of the meander of Queuille in the Auvergne region, France
In this specific case, Man has something to do with it: the construction of the Queuille dam which maintains the level of the river. Superb teamwork, isn't it? It's hard to get tired of this view.
Especially from the particular shape of the Sioule river . I am completely overwhelmed by this magic. Note that our location also plays a key role! The view is breathtaking from the Belvedere du Paradis .
Arranged at the perfect height, for the most incredible awe-inspiring experience. I also advise you not to choose any other place than this space for your photos.
And then, it would be even more perfect if the visit was done in the middle of autumn , the daylight which radiates divinely over the whole area, the colored leaves, the river which shines, how not to fall under the spell of such a setting  ?
Spots in france 8: Direction Haute-Savoie, to the Mont-Blanc massif
A mountain field crowned with a blaze of snow, under a cloudy blue sky … Do you feel the ecstasy coming from this beautiful vision? Well, that's still nothing compared to the feelings that will animate you when you face Mont-Blanc in Haute-Savoie .
It is certainly with wonder that you will cross its superbly bluish cave . Here, time has stopped, just to allow you to admire this magnificence.
And this wind, icy, which tenderly caresses your skin, causing you to shiver more enjoyable than it should be.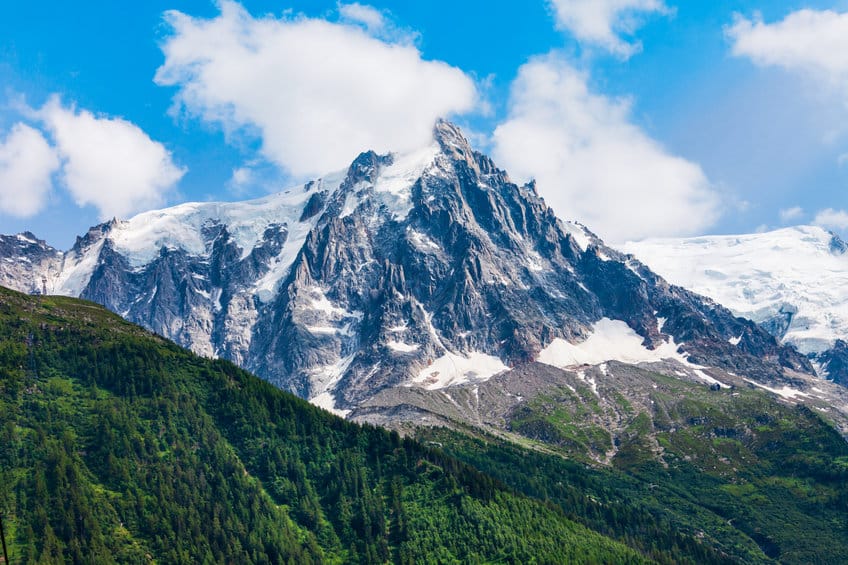 Mont Blanc or Monte Bianco, which means White Mountain, is the highest mountain range in the Alps and in Europe, located between France and Italy.
It is here, at spot 8, that you will take the "  freshest  " photos of this tour. For you who love thrills, how about hurtling down this work of art on skis  ? You could even hook a camera to your helmet.
A wonderful idea to capture unique moments. You can then iron the strips and take perfect authentic photos, full of life!
Feel free to also capture the sky! This color contrast, this new golden aspect of the snow will make your photos even more magical… And magic is what captivates us the most with this type of exotic shot .
Spots in france 9: More photo editing at Calanques de Cassis
The Calanques de Cassis at spot 9 are suitable for those who are "fed up" with photo retouching. And it's to your credit: finding the perfect color scheme where nature has failed to do so is more tiring than it looks.
Well surprise surprise for you! Contrast, luminosity, brilliance and even sharpness , everything has, it seems, been carefully thought out to make it the ideal spot for photos in France .
Bathed under a beautiful wave of solar rays, with these shady cliffs in places in the most perfect of tones, all accompanied by this resplendent blue lagoon sea . More than one thing to do: find the perfect location to take in the panorama of this chalky cliff , which has always been waiting for you to show it the value of its beauty . And for that, positioning yourself high up would be perfect.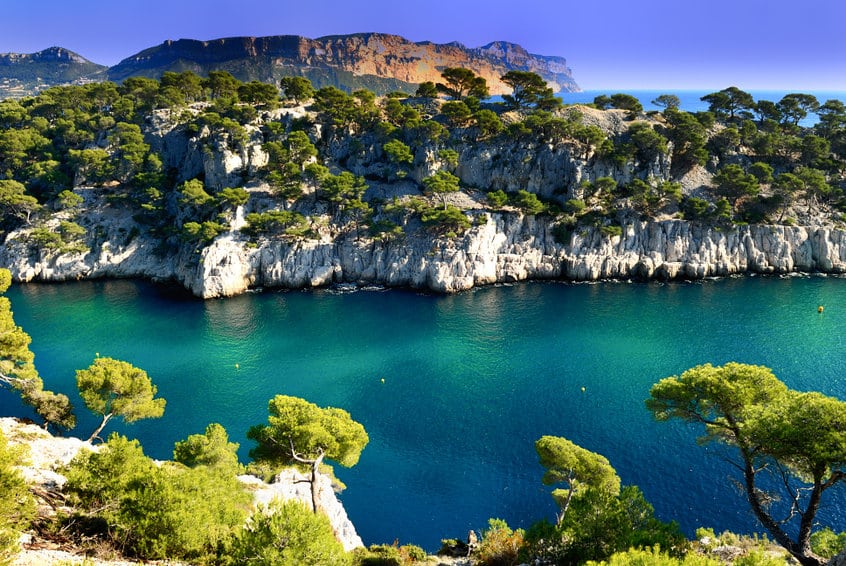 Calanques of Port Pin in Cassis in France near Marseille
But there is still more to see: on board a kayak, it's a whole different story. You'll be able to take many more photos, capture more details, and have an album full of never-before-seen photos.
The most interesting in the whole story, it will certainly be this moment when you will realize that you do not need to retouch the photos . That would actually spoil all that beauty.
And then, these trees painted in different colors: the breath of life that was missing . No doubt, the photos will be more beautiful in autumn or summer.
Spots in france 10: Direction the Pilat dune
Imagine yourself facing a mountain of golden sand , which seems to pour into the sky. Then climb this dune and find yourself facing a field of greenery which seems to have no limit and pours into the depths of the earth .
This decor, it is only in the dunes of Pilat that we could admire it!
Look at this magnificent dense Landes forest , under this cloudy sky which lets in enough rays of sunshine to sublimate the decor.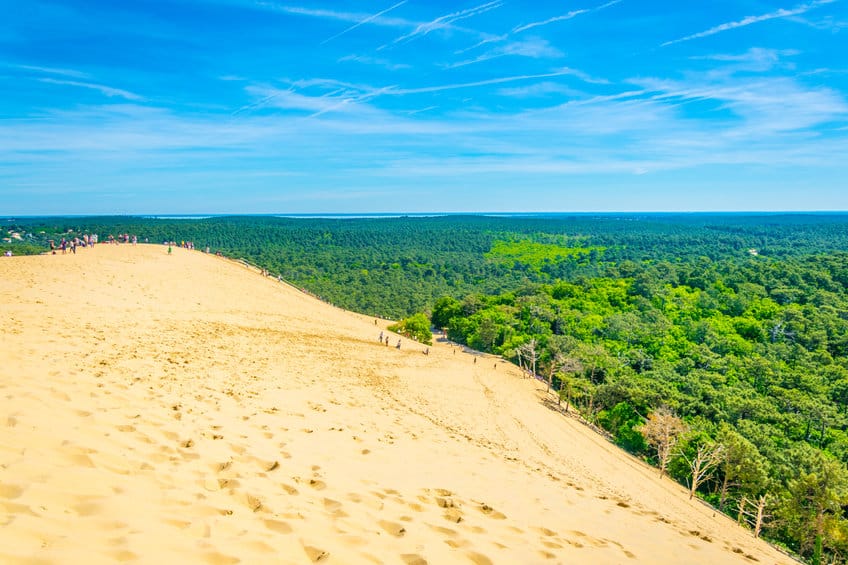 Dune du Pilat, the largest sand dune in Europe, France
For the photos, bah I frankly advise you to place yourself in height!
No doubt it is precisely there that you will get the best photos: with in the foreground, this sea of ​​sand , and in the background, a sea of ​​trees : who would have imagined being able to find these two expressions in the same sentence? And again, in one and the same photo?
I can already see you making people jealous with your photos. Besides, give free rein to your imagination: reverse the camera, zoom in , etc. Others will struggle to make photos as beautiful as yours.
Oh ! I almost forgot the Arcachon basin . Rest assured, no pun intended this time, it's a real sea! The shivers that ran through me at the first sight of it stayed with me, and I still enjoy it today.
Spots in france 11: the wild landscape of Ouessant
Shut! So listen! These crashes of waves against the rocks , these rumblings when they approach and move away from the coast. So, are you there?
Welcome to Ouessant , where wilderness and beauty are one. Rinse your eye first! You are in a place whose beauty you want to capture . It's important that you soak up this splendor before you pull out your camera.
So admire this Celtic sea which never seems to get tired of moving under this sunny and completely clear sky . I bet you just found a dreamscape for quite a few photos.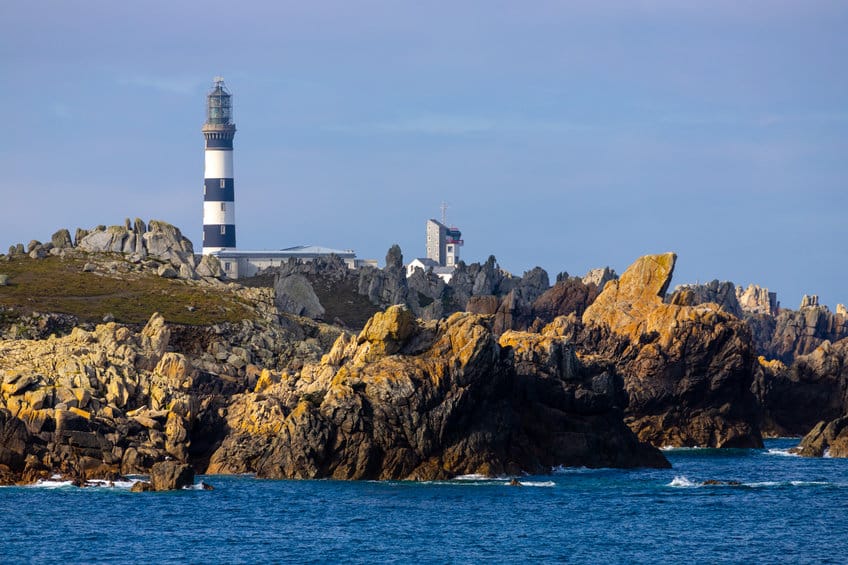 The Creach lighthouse on the rocky and steep coast of the island of Ouessant, in Brittany, France.
But, turn around, take a flattering look at this granite cliff  ! These birds that come to nest there! What do you think ? Didn't I just find you the cream of photo spots  ?
And strangely, you are not at the end of your surprises: have you not noticed these purplish moors with this touch of yellow : and here you are already, camera in hand, for your first take.
Above all, don't forget to immortalize this special moment when the birds still honor you with their presence . Your album can only get better!
Spots in france 12 : The Côtes-d'Armor at Cap Fréhel
Spot 12, and we find ourselves again facing a vast expanse of cliffs, where wave after wave crashes.
Nothing to say, there is something to delight your dandruff with this line of bright colors of all kinds. Nicknamed the Emerald Coast, Cap Fréhel is one of the most beautiful landscapes I have ever admired.
Every angle of these ribs is photogenic. Countless heather gorse carefully implanted on the surface of the cliff. You have enough to take good panoramas under this wonderful sky.
Where to get the best catches? Position yourself on the GR34  ! You will be able to capture the entire landscape in your film nets. The rendering can only be epic.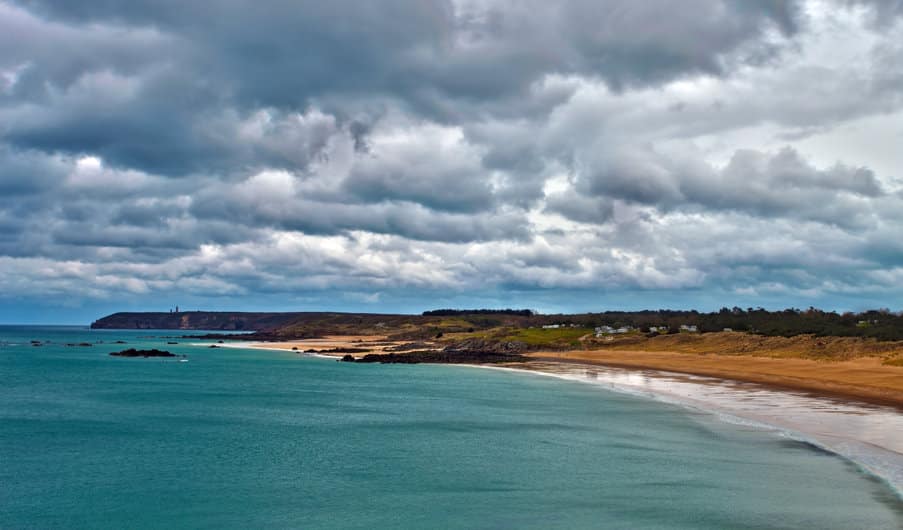 Cap Frehel, France
Above all, don't stop there for your shots! Go down the cliffs, you will be surprised to see that the view from this angle is even more spectacular , especially at sunset. But what am I saying? Auroras also have their own magic.
Feel the waves come to life! Admire the sun sublimating the flowers and trees of the region. A pure delight for your eyes… and your camera.
All that to say that here, 2 days would probably not be enough for you to get the best of Cap Fréhel .
Spots in france13 : Older photos at the Tufs waterfall
The Tufs waterfall , or the waterfalls of waterfalls: there are so many that you feel like you are trapped in a hypnotic kaleidoscope . It is right in the Jura in the village of Les Planches-près-Arbois that you will find this treasure of nature.
Here, we come to admire the La Cuisante river , and these staggering waterfalls, each as fabulous as the next.
More interesting for you: you will have no trouble getting close to take pictures. A hiking trail is already laid out.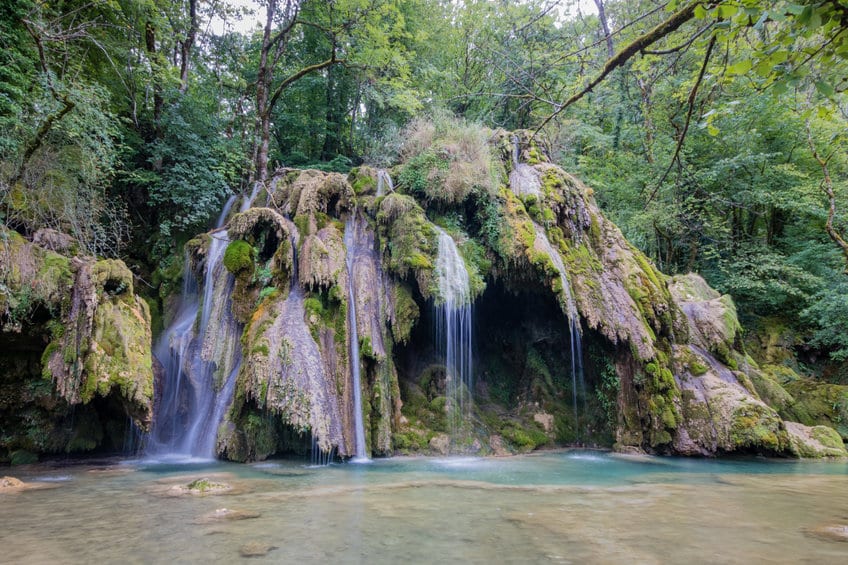 Cascade des Tufs du Jura, with its limestone sculptures at spectacle, France
Attention ! You are so taken by the beauty of this spectacle that you forget to take pictures! Each step you take corresponds to a wonder to be captured . Yes: this place is strewn with splendours.
Admire the La Cuisante river flowing along the limestone rocks from the Grotte des Planches . And all this in a forest that does its best to preserve as much shade as possible in places, and to let as many rays as possible in other places, as if to force you to let out a sigh of ecstasy .
It's also inexpensive to have the chance to photograph this beauty like no other . It's amazing how speechless I am at every sight of this splendor.
Spots in france 14: the magnificent cave of Osselle
The mere mention of the name of this cave fills me with excitement. It is the pinnacle of beauty , covered under a veil of gloomy and mystery.
And that's not all ! The Osselle cave is almost 8 km of beauty. You imagine ? 8 kilometers of journey to feel his heart beating wildly and changing rhythm with each turn of your gaze . And this is normal, since it is one of the oldest caves known to date, since the 13th century .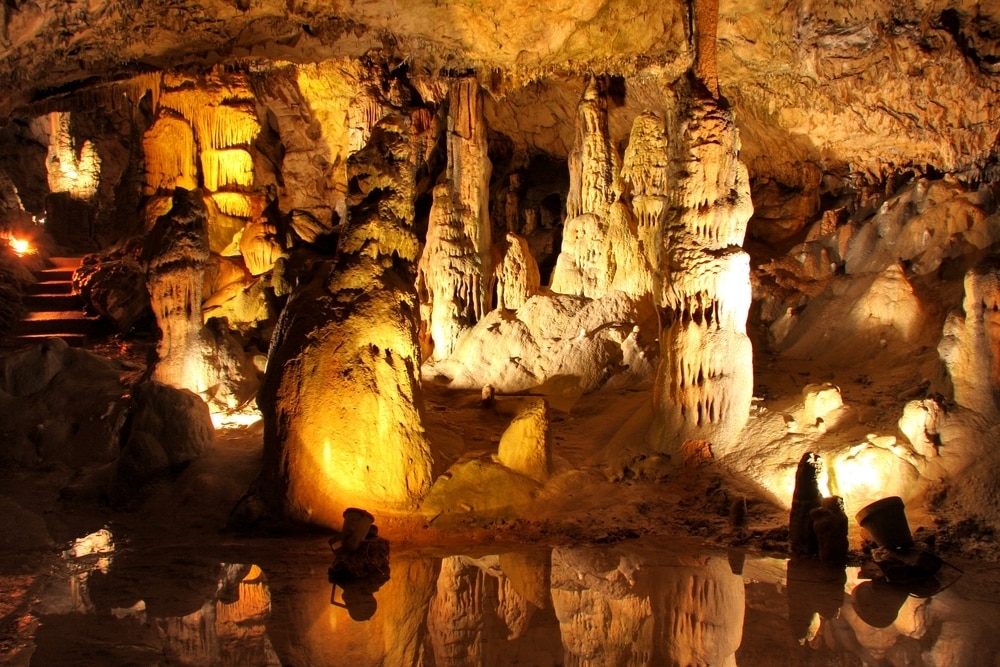 The magnificently lit Osselle cave
You certainly say to yourself "who says cave, says darkness". Well no, it must be said immediately, the cave of Osselle is magnificently lit , right down to the smallest corners. No need to worry about your photos then.
Worry about the angle you are going to capture now. And the one after. All these crevices, these walls that seem to have been worked by men, these dark corners , everything must pass.
I can already see you looking at your photos after taking them. You might have the impression that they weren't taken by you, you'll be so amazed: this is the effect produced by the cave. Anyone who enters it becomes as if by magic a professional photographer .
Spots in france 15: we end on the ochres of Rustrel
We end this trip to the marvelous on a splendor in the colors of gold and emerald. The Provençal Colorado , better known as the Ocres de Rustrel marks the end of our adventure. But rest assured: you will be amazed.
You will especially take full skin. The area is completely clear, which gives free rein to the sun to shine brightly over the entire surface .
We immediately understand where the more than 30 colors of these ochreous sands come from . Yes ! More than 30 shades of course! And being very lucky that you are, you will be able to photograph all of this.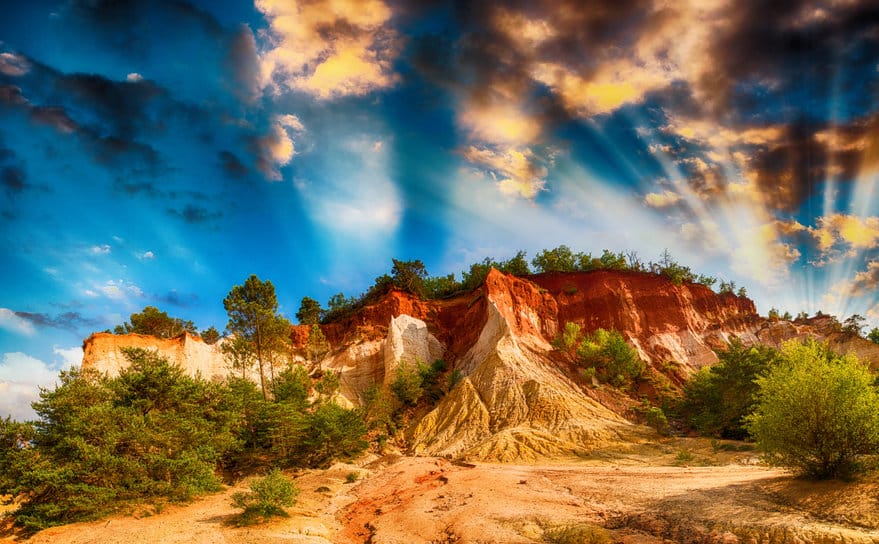 Panoramic view of rocks and vegetation in Colorado Provençal, France
This cocktail of sand and greenery of an extremely pure green, under this sky of a strangely divine blue: it is exactly what you needed for a grandiose end . You won't believe your photos. They will magnificently bring out each of the shades of the sand , and will perfectly render the liveliness of the greenery of Rustrel.
So, do you regret this detour to Provence-Alpes-Côte d'Azur? I'm sure that it's not the case !
And it is probably the same for each of the photo spots that you have just discovered . Satisfied with your photos? Still in shock? Imprisoning so much beauty in a single device must have that effect. And it's all to your credit, to you who knew how to find these perfect angles to pay homage to these epic splendours .