2. Camps Bay Beach, Cape Town, South Africa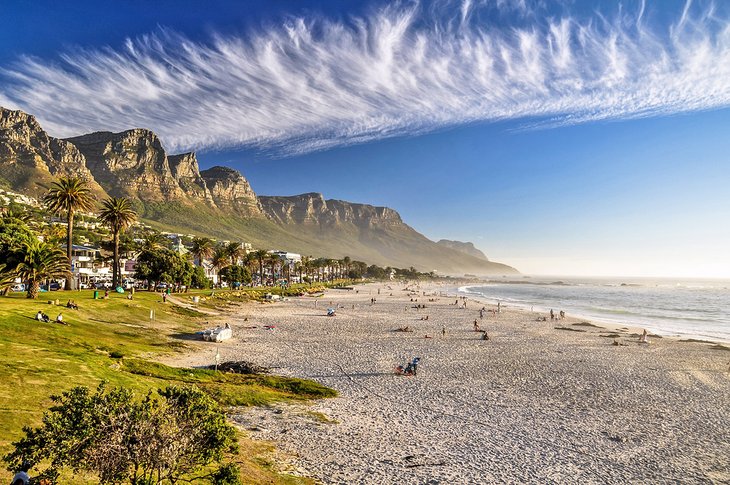 With views of Lion's Head and the Twelve Apostle peaks, Camps Bay Beach is about a 10-minute drive from downtown Cape Town and is one of South Africa's most beloved beaches. Although the water here is too cold for the average swimmer to handle, sunbathing on the white-sand beach is a favorite local pastime.
On summer weekends, this beach fills fast with families, tourists, couples, and groups of friends who come to play a game of beach volleyball or just hang out. When you get too hot, cool off with a quick dip in the turquoise- and emerald-striped Atlantic Ocean waters. If you're shocked at the chilliness despite the tropical good looks, you aren't alone. The current here comes straight up from Antarctica.
Our favorite place to stay on this beach is South Beach Camps Bay. The boutique hotel is filled with original modern South African art and offers lodging in Miami-influenced studios with white-on-white decor, full kitchens, and private balconies from which you can watch the fiery nightly sunsets.
Camps Bay is just one of a number of top beaches within a 30-minute drive of Cape Town. The nearby Clifton Beaches are just as popular and are set in a series of four coves protected from wind and at the bottom of a steep set of stairs that leads down from the main road.