There are many beautiful beaches in Africa, but these twelve are some of the best.
With 18,950 miles of coastline spread across 54 countries, the African continent is home to some of the world's best beaches.
Madagascar has the longest coastline on the continent at 3,000 miles and features hundreds of beautiful and often ultra remote beaches, as well as offshore islands like île Saint-Marie, where the pace of life moves slowly and the scenery is stunning.
South Africa and Mozambique have the third and fourth longest coastlines on the African continent and also host a plethora of dreamy beaches with epic backdrops – you can't miss Cape Town's Camps Bay for its sheer wow factor.
Mozambique is also home to hundreds of offshore islands, including the Bazaruto Archipelago, where you'll find warm, clear turquoise water; powdery white beaches; and a laid-back vibe. More amazing stretches of coastline can be found farther north in Kenya and Tanzania, where some of the best beaches are also located off the mainland in island paradises like Zanzibar in Tanzania and Lamu Island in Kenya.
With so many stunning strips of sand spread across multiple countries, it's hard to narrow down the best of the best when it comes to beaches. But we think the ones we've listed here are the African continent's most mesmerizing.
Note: Some businesses may be temporarily closed due to recent global health and safety issues.
1. Bazaruto Island, Mozambique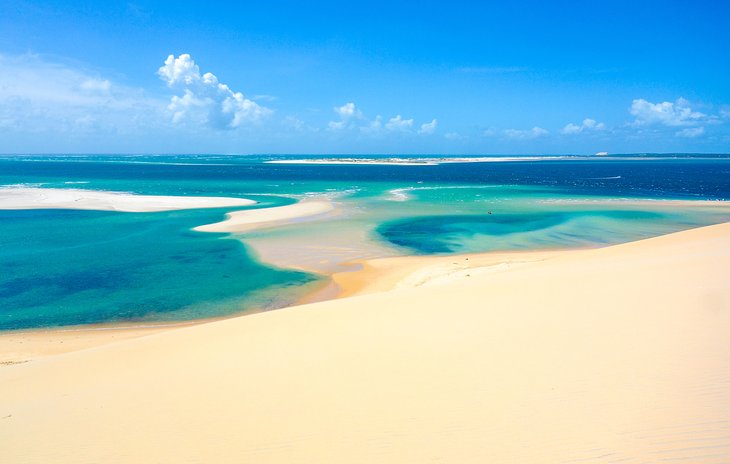 Set inside the boundaries of the Bazaruto Archipelago Marine Park in the Indian Ocean, off the coast of Mozambique, Bazaruto Island is home to some of the most stunning beaches we've laid eyes on. The water here is warm and turquoise blue, and the white sandy beaches are backed by swaying palms and towering sand dunes, creating a postcard-perfect vision of paradise.
Part of a larger archipelago that is known for its amazing diving experiences, the coral reefs around Bazaruto are also excellent for snorkeling.
The island can be reached by boat or small plane, and the accommodations range from budget guesthouses to the luxury &Beyond Benguerra on a neighboring isle. The property offers lodging in various sizes of posh, thatched-roof huts that work well for couples on honeymoon or families vacationing with the kids.